If you can't make calls or something is not working right, often it will be due to one of the following issues: browser, headset, or internet.
In this article we'll go through some common solutions to try to help fix your problem. You first need to have the right set up before getting started. Read through our system requirements before you start making calls.
Headset
Make sure you have the right headset. We recommend that you use a USB headset to have the best call quality. You may also use a wireless or Bluetooth headset. Please note that not all wireless headsets are compatible. In some cases, a wireless headset may be the source of your audio issues. Here are some things you can test: 
 If you can hear audio on different webpages but not in the Dolphin Cloud, then it's likely that your wireless headset is not being recognized. When this happens, it's best to test the audio with a wired headset. Testing with a wired headset will help you quickly find out what's not working. 
 USB ports can stop working. Test using a different USB port for your wired or wireless headset.
If it's a Bluetooth headset, check your connection and settings.
Check if your headset is not connecting to the site. Listen to a video from a different webpage to test this. If you can hear audio on the other page, then your browser is blocking your microphone access.
Browser Settings
First off it's critical that you're using a compatible browser. Make sure you're using Google Chrome or a Chrome compatible browser such as Microsoft Edge. Dolphin will not work properly on Firefox or Safari.
Browsers often update, so it's good to check and see if it's up to date. 
You may have too much cache saved on your browser, and it needs to be cleared. 
Using "private" or "in-cognito" mode tabs to login may help you check to see if it's a cache or other browser related issue.
Audio will not work when your mic settings are not set up correctly on the website. When it's your first time making a call or a recording in the dialer, you should get a pop-up box asking to allow the use of your mic.  Be sure to approve this! This setting helps connect with your headset each time you log in and make a call. Fix this by checking out the site settings for your browser. The microphone needs to get set to allow.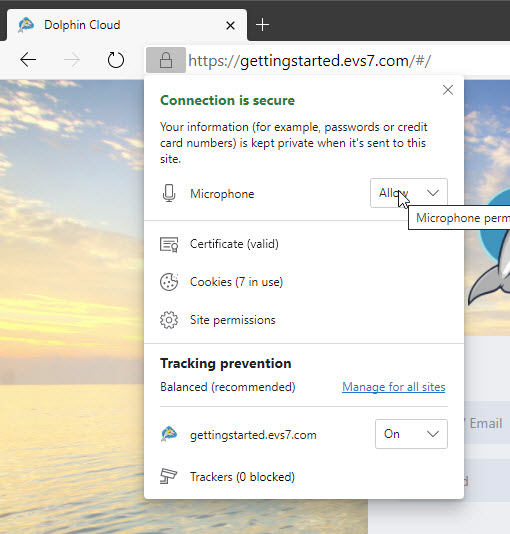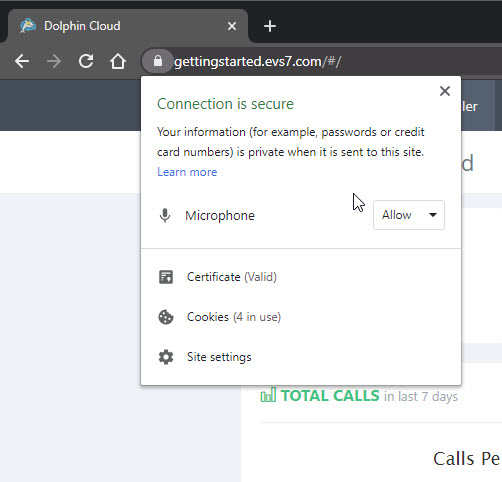 Router or Modem
Check your router and make sure it's VOIP compatible. If you have a Ubee or Technicolor modem, you cannot make VOIP calls. Check with your ISP or IT department if not sure what type of router you have.
Restart your router.
Wired or Wireless Connections
In some cases, WiFi can be inconsistent or weak, which gives you choppy call connections or loss of audio packets. To have the best sounding call, use a hard-wired connection from your computer to your router using an ethernet cable.

Firewall & Antivirus
Firewall
Check your computer's firewall and antivirus settings. They can block you from accessing the Dolphin Cloud.
If you cannot make calls, then opening specific ports on your firewall/modem/router will let you make outbound calls. Check our system requirements page to find out more about opening ports.
Antivirus
It's best to use the default antivirus defender on your computer. Windows and Mac computers both have their built-in antivirus and malware protection. If you have virus software installed, then it can block or downgrade your service. Check your settings to make sure it is not blocking your Dolphin Cloud service. Some examples of commonly installed virus software are Norton, Avast, and McAfee.
Browser Extensions
Extensions on your browser can affect the Dolphin Cloud. Adding too many extensions slows down your browser or can block parts of the Dolphin site that are necessary for it function properly. Look at the extension list in your browser and make sure to turn off all or a few. You may need to shut them all off to see which ones are causing problems.
These are the most common issues we see, but if you need help, please call our support team during standard business hours and we'll be happy to assist.