Performing a Warm Transfer
A warm transfer allows you to speak to the person you're transferring the call to in order to give them some context before sending over the caller. If you need to warm transfer a call, simply click the Transfer Call button in the script OR the Warm Transfer icon on the call box to bring up a modal of client contacts. Choose the client contact you wish to transfer the call to, and this will initiate a call with the contact. This automatically puts the current call on hold.
Once you connect with the contact, you can speak with them and inform them of any information. 

"Hi James, I have Jennifer on the line who would like to speak to someone about new service.  Are you free to take this call now?"
To complete the warm transfer, click the "Merge" icon and choose the number of the original call. You'll then be prompted to disposition the call before completing it.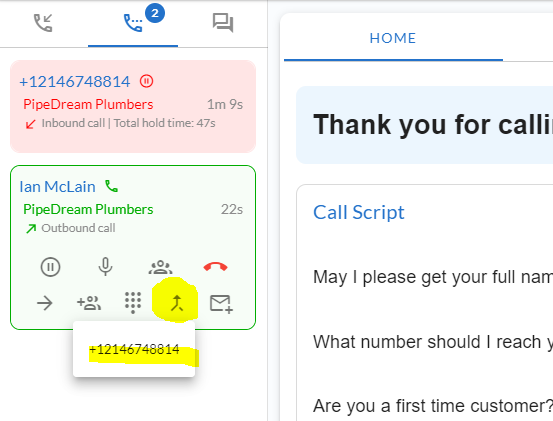 You can also initiate a warm transfer in a few different other ways:
Click to call a current contact from the contacts page or the on-call calendar.
Answer second inbound call, then merge the first call (Imagine a scenario in which you try to call a doctor to transfer a call, but they don't answer. Then they call back right away so you can still patch the call through.)
Initiate an outbound call and dial manually using the blue plus icon on the bottom right of the screen.
Performing a Blind Transfer
A blind transfer allows you to quickly send over a call to someone without speaking to them first. Once you blind transfer a call, it will automatically disconnect your session so you are free to move on to other calls.
To perform a blind transfer, click the blind transfer icon, select a contact you wish to transfer the call to, and you're all done. Simple as that.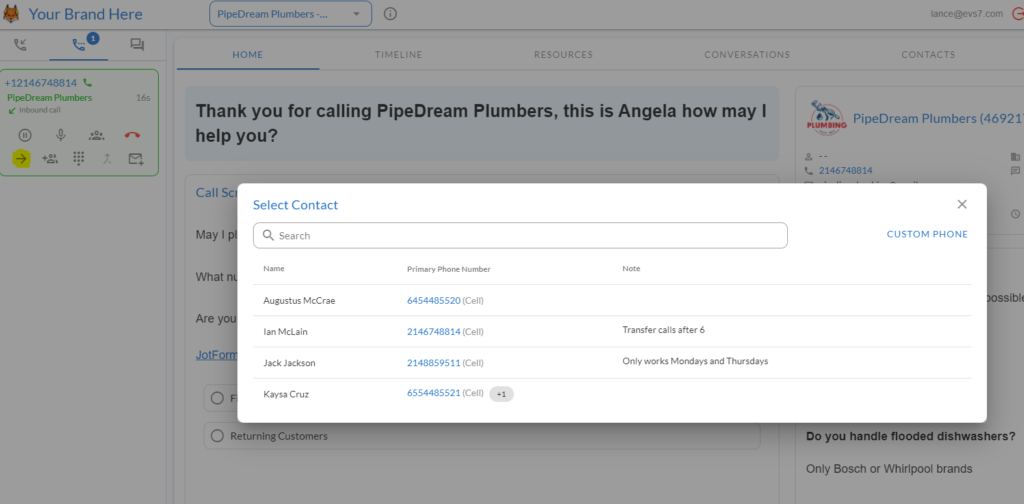 Now you can use your transferring skills to connect the right callers with the right contacts in the right form.